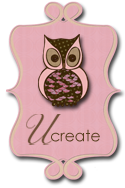 Today I am lucky enough to be seen over at
Ucreate
.
I couldn't be more excited. The blog is kind of awesome, Kari is kind of awesome, and I feel really honored that she would allow me to be apart of her blog today.
Also Today...it is hotter than the hubs of...well you know. I am wilting, not prettily might I add.
Boys are basking in the sun in a new little pool with a new little sprinkler going on simultaneously, and I am seriously thinking about putting on my bathing suit and joining them...
alas I don't won't to scare all my lovely neighbors, so I will probably just eat 35 popsicles instead.