I got another chance to swap today. I am so excited to introduce
you to Leslie and her pretty amazing blog.
HELLLLOOOOO
Just Another Day in Paradise
followers! I am so excited to be swapping with Larissa today! Don't you just think she is so cute and has tons of
FABULOUS
ideas?
I started blogging back in 2008 and decided that my personal blog was being over taken by my crafts,so I started my craft blog. This is a place where I love to share my creations and inspirations that I receive from fellow
bloggers
and
crafters
. I host 2 link parties each week. The first one is on Tuesdays, yes that is today, and it is called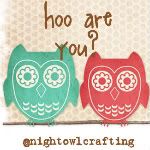 This party is where you answer a few questions I ask each week and then link up your post! This is a party to get to know each other outside the craft world!
The other one is held every Wednesday and it is called
This link party is where you can come and show off whatever you have been making!
I hope you will come and link up to both parties! I also am looking for more
AMAZING
blogs like Becky's to blog swap with me!
Today I would like to share with you some of my favorite projects I have done!
Starting off is my
changing pad
and it even has a tutorial!
Check out these
lady bug

pavers
! They are so fun and easy to make!
I had so much fun making these adorable
fabric pinwheels
!
My most favorite recent project that I am in love with I copied from another blog, yes she knows!
Check it out on my
bandanna tablecloth post!
I have so many more cute projects that you should come and check out over at Night Owl Crafting and please come join my link parties! I love meeting new HOOTS!
Thanks Larissa for letting me take over your
FANTASTIC
blog today!
I had a
HOOOOT
of a time!
Thanks Leslie! I Love that tablecloth, don't you? What a fun idea for a party.
Have a great day everyone. See you tomorrow for a super yummy recipe.