Welcome to another
A Pinteresting Wednesday
!
T minus three days.
Then we are going to be getting our party on, Avengers style.
My to-do list is about one third done, but a couple of late nights and we'll git er' done.
When I saw this etsy shop, I knew I wanted to add this idea to my
Avengers Party Pinterest Board
.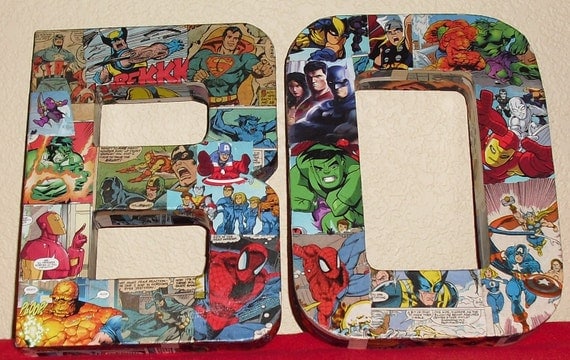 I loved the idea making letters decoupaged with comic book pages.
However, it was quite a bit harder to find comic book pages than I had anticipated. Short of buying new comic books, I realized using actual comic book pages might not be possible.
With one last effort I decided to look at JoAnn Fabric.
BAM! Found what I wanted.
Fabric that looked like comic book pages. PLUS I am pretty sure I spent less money on the fabric than I would have on an actual comic.
Love it when I save money.
I loved how the letters turned out.
Using some handy dandy Mod Podge, I glued on scraps of the material on to paper mache letters.
I actually think that the fabric was easier to work with than paper.
After the party, Middle is excited to use these letters in his room.
I am freaking a little bit about how much more I still have to do to make this party happen, but what will be will be.
Now a little update on my sweet cross-eyed Little.
His glasses came, and it is official...
He is the cutest Smarty Pants ever.
These new glasses will be a pretty permanent fixture in his life. For who knows how long he will have to wear these all day long. For two hours of those days he will also have to wear a patch over his good eye under the glasses.
So far he has been a trooper. He wears his patch happily. See-
Wearing his itty bitty glasses I know will be hard for him, but I am sure soon enough they will be such a fixture that he probably won't even notice them.
Thanks for all of your kind words and well wishes for Little in his new adventure.